Description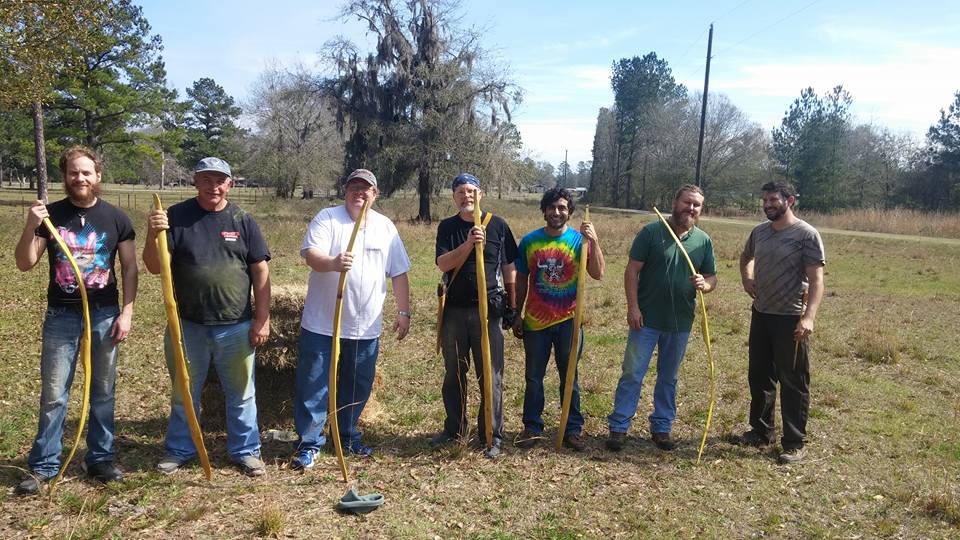 Officially Scheduled for February 1,2 & 3 2019
Alright folks, the 2019 Basics of Bowmaking class is scheduled due to popular demand. I have 6 spots (7 in a pinch) available and are to be purchased right here. Add the class to your cart and checkout, it's that easy. Also please include your phone number either via email, text or in the checkout comments (viewable to some).
Location: Outside Lake Butler, Florida. Dates and times are: start at 11am Friday, all day Saturday, and a half day until finished on Sunday (Usually until lunch or a little after, but we stay until bows are shooting)
This class includes a bow stave, and the tools required to build the bow. You keep the bow at the end of the class (the tools stay with us please). Over the course we cover start to finish from seasoned bow stave to shooting bow. It's a relaxed atmosphere, but we work hard!
Camping on site is available at no cost. There is a portable bathroom on site, potable water from a spigot, but no shower or special amenities. We do have a little electric access for stuff like coffee makers, etc… but no camper hookups. There are hotels available in the Lake Butler area. (we usually camp and socialize after hours)
Items you may want to bring: A pocket knife of your choice. Food, camping gear, any tools you would like to use, Arrows, arm guards, gloves, or tabs if you have any, whatever you need for a weekend away. We do not have any problem with alcohol just as long as it is not an out of control situation. Be responsible please.
We all love kids and pets, however this is a class for education and your attention will be required throughout the day so this is not a family friendly event. An adult camping member not involved in the class is perfectly fine. This class is not recommended for Kids under 16 as it is labor intensive.
The end goal : For all students to leave with a bow that they built, the knowledge to continue to build and care for primitive bows. Bows are most typically shootable and a little rough still upon leaving. Most students do their finish and sealing at home. The goal of this class is to learn functional building of primitive bows, not fancy customization.
Also note that I usually have some extra gear available for convenient purchase (saves on shipping) should you be in need of anything else, like arrows, quivers, books, etc. Feel free to contact ahead of time if you would like something in particular. Cash and checks accepted on site, but positively no obligation to purchase anything extra. It's just here for your convenience.
(Note: Cost is all inclusive. No hidden fees. Non-refundable once booked and paid (except as listed above)