Description
Come Learn to Build and Hunt with Primitive Bows and Arrows with Professional builder & hunter, Ryan Gill!!!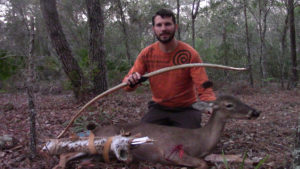 You will leave the class with a bow, arrows,  a flintknapping kit, and knowledge!
Level 1 in my "Right of Passage" class is a crash course in Primitive archery and hunting. This Friday- Sunday course will touch on and require hands on construction in…  December 7-9th 2018
The mechanics of Primitive Wood bows and their proper context in the hunt.
Mechanics, building, and tuning of arrows from natural materials
A basics course in Flint knapping.
Training in the use of the equipment, both from the archery stand point as well as hunting techniques.
There is unfortunately not enough time for each individual to make all of their own equipment, but this is a hands on class in which you will be actively involved in the building process of at least some of your own gear. The rest will be provided for you. Each participant will work on and take home..
1 Wood bow of suitable poundage for hunting big game.  (*upgrades available at additonal cost)
4 Cane/bamboo arrows affixed with practice points
A Flintknapping kit with tools and stone included
The end goal of this class is to familiarize each student with the necessities of skill, proficiency and gear capable of taking big game efficiently before moving on to Level 2.
If you are looking for a more complex bow building class where you can build your entire bow from a raw stave yourself, do please look into my Basics of bow making course. The basic hunting bow in this class will be almost entirely finished upon arrival to expedite the course. Only slight work will remain on the bow.
Once you have completed the Level 1 course, you will be given ample time to practice and become proficient through additional coaching via email, telephone, and video instruction. Then you will be ready to Schedule level 2 at a date that works with your schedule. Level 2 is a quick refresher and skill honing session, and then we get out and get you an opportunity to take a wild hog with what you have built and learned.
Extra notes of interest: Level 1 is a multi-student class. There will be anywhere from 4-8 participants. Level 2 is a 1/1 or 1/2 experience scheduled at a later date.
Primitive camping is available on site. We have 20 acres of land to utilize. Water and a power outlet are available on site.
Meals and lodging are not provided so we are able to keep costs to a minimum. The location and layout of this course is the same as with our Basics of Bowmaking Class.
NOTABLE MENTION of Conditions: Personal Cancellation Refunds are not available after June 1st 2018.
The class is contingent on having at least 4 Registered participants. In the event that there are not 4 registered participants by December 1st, all registration fees will be refunded in full.