Description
The Traditional Bamboo arrows are a simpler alternative for those looking for a natural material arrow at a good value. These are perfect for both traditional and primitive shooters and you have the choice between having them selfnocked or plastic nocked. These are the arrow that bridges the gap between primitive and traditional archery. You can replace the points with any glue on 5/16 field point or 5/16 – 11/32 glue on broadheads. The shafts are very thin but stout. The feathers are 2 white hen feathers and 1 Barred cock feather for easy indexing. There is nothing overly fancy about these, they just shoot well and come in 5# spined sets of either 6 or 12. As with any bamboo expect a little bit of occasional wiggle in the shaft which is perfectly normal and expected, but I personally straighten these from crudely-straightened stock. Many skip this essential step in making bamboo arrows which often gives bamboo a bad name, but like any of my arrows, they are meant to be used and used hard and keep on working. These are tougher than wood shafts and penetrate exceptionally well due to their thin diameter.
I will affix field points for free in either 70, 100, or 125 grain which comes at a standard length of 30 inches b.o.p. (base of point). You may drop me a note to have yours cut to a longer or shorter length, but note that arrows cut below 30″ b.o.p. cannot be returned or exchanged. The reason I like 30 inches is not only to accommodate most draw lengths, but also it keeps the arrow weights up typically in the 450+ grain range for proper hunting weights. You can also order these full length (32-33″) long without points attached if you wish. Stone points are able to be attached to these as well, but for the best Hunting cane arrow on the market made for hunting with stone points, check out the Master Hunter 3-fletch.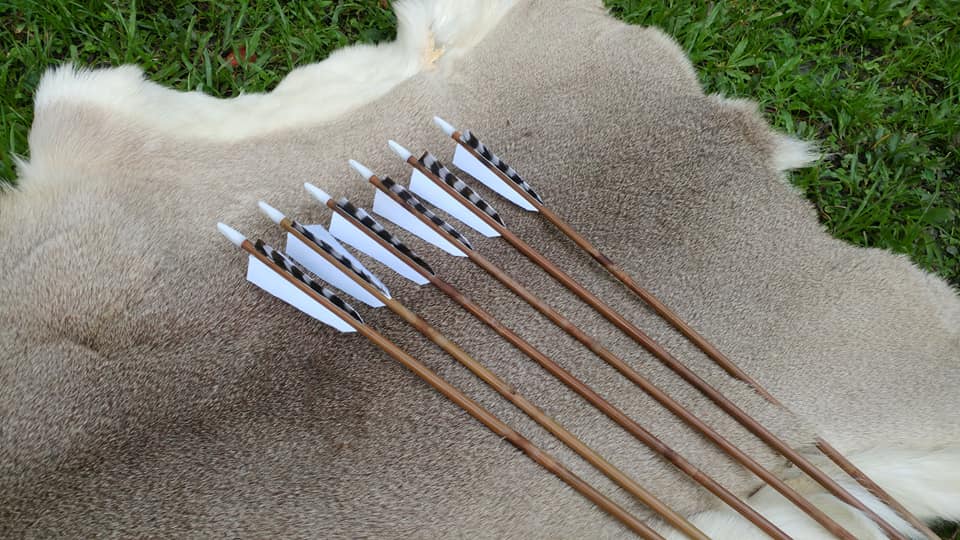 Selfnock version shown below.