Description
"Without a doubt the most consistent, reliable and sharpest stone hunting points on the market. Ryan Gill has mastered knapping arrow points and producing scary sharp serrated edges with the proper geometry that maximizes penetration and create massive internal hemorrhage. He has personally taken over 50 animals with them, from deer, elk, boar, alligators, and Bison. Ryan is also a professional consultant and projectile maker for the Anthropology department at Texas A&M and UTC Universities.  If you want the best of the best in stone points with the data to back it up, you are in the right place, and with his replacement rewards program, you'll have superior confidence when you pull back the bowstring. " You can watch these points in action on the HuntPrimitive YouTube channel (for one of our many videos, click here)
A pair of Flint Daltons that passed through a BISON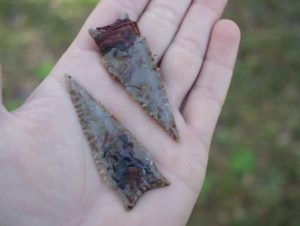 Stone is lighter than steel! Many folks want to order 125 grain points but that is actually a really big stone point! Too big in my experienced opinion to reliably and repeatedly take deer sized animals except from high performing or more modern traditonal bows. I have done much better with smaller dimension, lighter weight points. I have a TON of information on this and the reason why linked right here. Small dimensions are better for Penetration. If you'd like to see even more, click here
All points are minimum 7/8″ wide to meet legal size requirements. Physical dimensions vary a bit but I ONLY send points that I would personally hunt with so have faith that you are getting points made by a hunter for hunting.
–These Stone Hunting points are the best choice for hunting big game. They penetrate the very best and are the ideal size to kill deer/bear/boar/elk, and even Bison sized game. These are what I highly recommend. The sizes vary by about 15 grains an run 65-80 grains.  15 grains difference on the end of your arrow should make no noticeable difference at all in flight. I recommend tuning and practicing with 70 grain glue on field points to closely match these in weight.
Flint (chert) is the toughest material (still very sharp but not super sharp)
Obsidian is the sharpest (Very sharp but a little more fragile)
If you want to know what my go-to choice is personally, I have no problem shooting either, I love them both!
The same goes for, "Which is better, the side notch or corner notch?" Neither is better or worse and they both do the same job equally time and time again!
***You can purchase the stone hunting points to haft yourself or you can have us do it for you.  It is important to remember that the hafting job is exceptionally important for good penetration. The best bow, the best arrow and the best point will all suffer to perform if the hafting transition is not streamlined. If you are hafting them yourself, please consider purchasing on of our Transition Training Tools (click here) to use as a model as to how your hafting transitions should look and feel for optimal penetration. 
——Below is a classic example of the chert/flint offered in a side notched design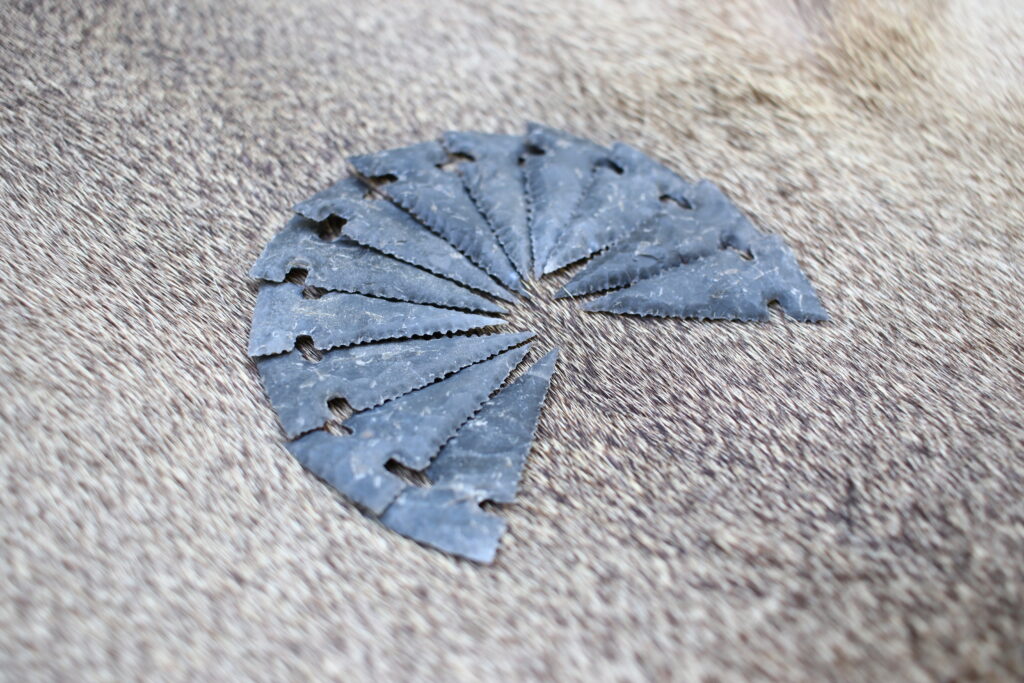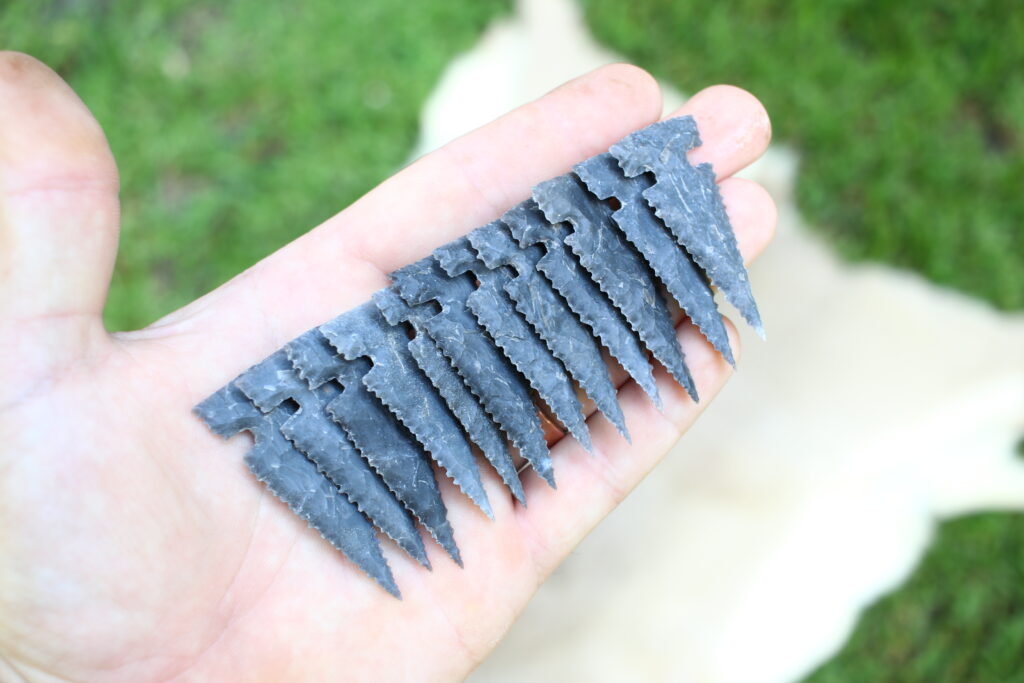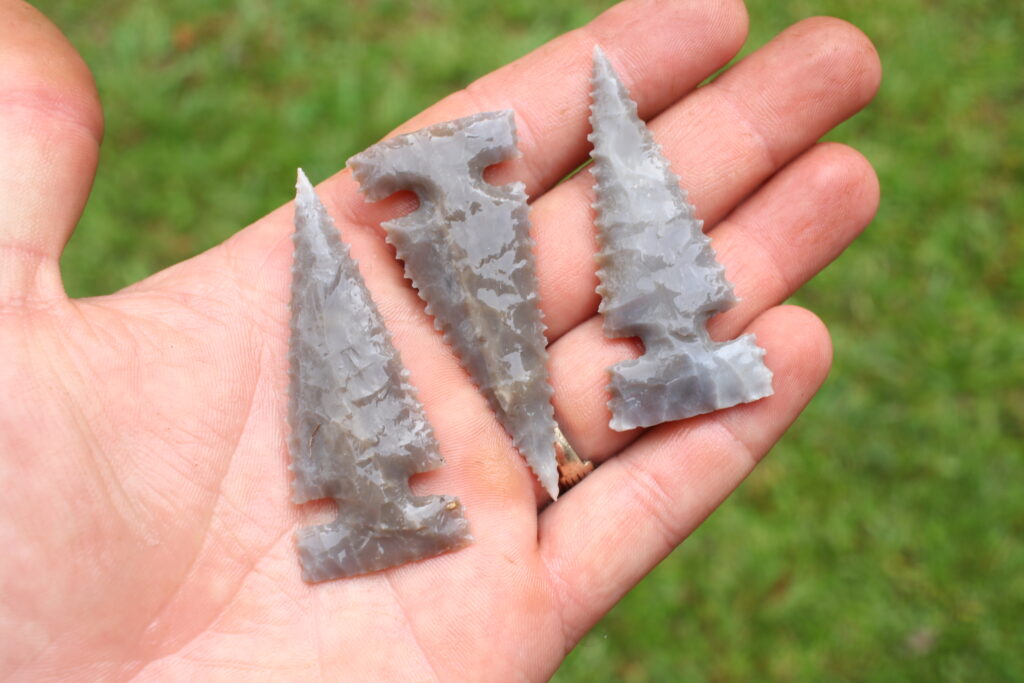 Pictured Below is an Obsidian Side Notched point.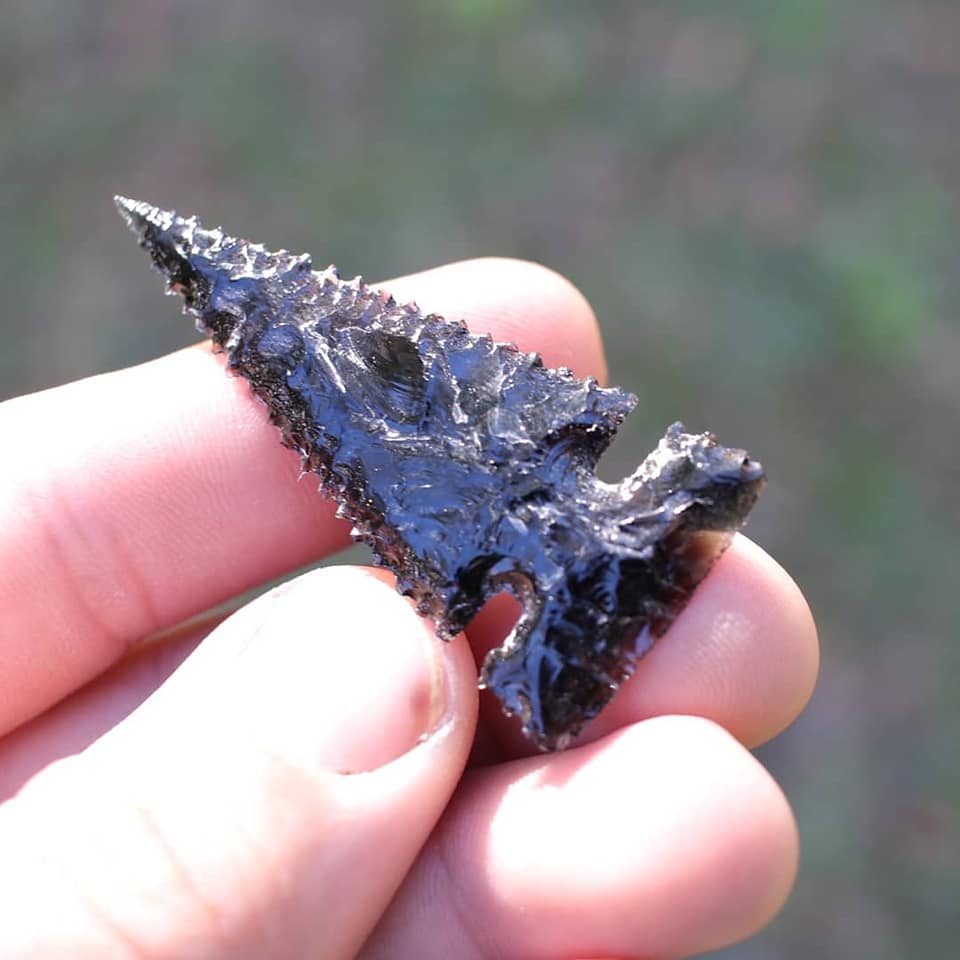 Corner Notch style shown below. Chert/Flint is the Grey colored rock, Obsidian is the black